No no no, get your heads out of the gutter, I mean a quick Tale From The Hanger, not THAT...jeez
Since the majority of my day tomorrow will be spent cramming for a midterm, I figured I'd take a study break and write a quick little wardrobe tale...
This weekend, as I've mentioned below; I will be returning to my old stomping ground (where I went to college) Nashville, TN to reunite with my "besties" for Homecoming. Last year, we had the same type of reunion, and while it was such an amazing time, I definitely learned a lesson that I will not repeat again this year.
I think there is a ticking clock inside everyone that sets off an internal alarm once your liver reaches a saturation point of "enough is enough". Mine was detonated after college graduation (thank goodness). However, while I was at our little reunion last year, my mind tricked me and told me it was OK to go out and party as hard as we used to....what ensued was...painful to say the least.
The (quick!) story of the Michael Kors Mary Jane Platforms:
Our first night being reunited:
We were all so stoked to be back together, naturally we sped off to the liquor store to stock our hotel room full of liquid goodies to "last the whole weekend". Of course the magnum of Grey Goose was necessary...I mean obviously.
Not only was I excited to see the girls, I was so excited to wear my brand new Michael Kors Mary Jane Platforms. They had just come in the mail and I had waited and waited to wear them, so homecoming seemed to be the perfect occasion. I paired them with some delicious jeans, a simple black top, and my miracle of the cloth leather jacket (Sheree from the Real Housewives of ATL owns said jacket except mine doesn't have the huge weird ruffle in the front.) First things first....6 girls...one hotel room...months of not catching up together...one magnum of Grey Goose. Here's the lowdown.
Basic Timeline:
9pm- everyone is dressed, primped, and the girl fest has only just begun.
9:15pm- the Grey Goose is opened...along with some tonic, soda, diet cokes, red bull, mixers of choice.
9:45pm-the Grey Goose is flowing freely along with the months and months of gossip, stories, etc. etc.
10:45pm-the Grey Goose Magnum that was "for the weekend" is gone. I repeat. GONE.
11ish- a cab is called, we all pile in and head to our favorite bar(s). A semi-awkward encounter with a bartender (really singer/songwriter) I used to have a "thing" (but not really) with is spotted and chatted up.
11ish/12ish?- we reunite with many many old friends, drinks are purchased, transactions are made, the band is amazing, holy hell it's good to be back in Nashville.
after "12ish" till around 3 am- debauchery. How did we do this for 4 years!?
9 am- me and "Louise" wake up in our shared hotel bed, both of us have receipts stuck to our faces from the bar....she seems to have ordered 12 shots Jager, and I saw her Jager with 12 shots Patron....oh.my.goodness. (we were ordering rounds for friends...clearly...not 12 apiece here otherwise we would've woken up in a hospital bed) "Sasha", "Margot", "Astrid" and "Selma" look equally confused/miserable.
9:15am- all the girls pow-wow in the dark hotel room (Ow my eyes!!) to recount the night. I feel like instead of wearing my new shoes, the shoes wore me and trampled all over my poor dehydrated body. My liver is seeking revenge, and I have now lost my voice. I sound like death and look like I belong on True Life: I'm a professional raver/ I try to emulate Amy Winehouse for a living.
Morsel of knowledge: I am terribly afraid of throwing up. I threw up once in college (my first real hangover senior year), and I literally cried. So, throwing up for me while hungover is NOT an option. I will literally lie in pain, nausea and misery, but will NOT let myself puke. It's masochistic really.
That night, I'm still feeling AWFUL. If you see pictures from that night, I'm the one ("that girl") looking rather green/ill in all the pictures with the forced smile. The MK Mary Janes had come out for a re-trial. I thought that maybe tonight they'd bring me better luck...not.at.all.
I had previously made a dinner reservation for about 12 of us at our favorite swanky/delicious restaurant. We arrived at the restaurant and I figured some "hair of the dog" would do me right. I promptly flagged down the waitress and ordered a beer. My first sip. WORSE.
I order a sprite. NOT ANY BETTER.
I finally tell the waitress to bring me some crackers in a napkin and a bitters & soda. I finally raised the white flag of surrender to my angry liver and the all-consuming hangover.
Me and my sexy Mary Janes tip-toe out of the restaurant, and I spend the rest of the dinner in the dark ALLEY next to the restaurant, feebly nibbling crackers and talking (rasping) on the phone to pass the time. Did I mention it was like 50 degrees outside? All I had on was a thin little wrap and a mini dress....so much for getting my voice back. I'm surprised people didn't start throwing loose change at me. (The shoes must've been the tip-off).
So I spent the rest of the weekend in the amazing company of old friends, amazing restaurants and bars....with a 3 day hangover from Hell that WOULD.NOT.GO.AWAY. I'm serious...I was sipping chamomile tea on the plane ride home, a whopping 2.5 days AFTER the night that will forever live in infamy.
So, while shoes are amazing creations that can make any day brighter, any outfit hotter and any calf muscle sexier...they cannot make peace with angry livers (but they sure know how to piss one off).
This year, I vow to respect my liver and make it through dinner sans crackers, but I will never vow not to wear hot shoes. I decided to switch it up and buy some amazing new riding boots, a purse and some tops and jeans for the trip as a peace offering to my liver this time around (I knew one single pair of shoes wasn't gonna cut it).
So wish me luck, and I'll be back with (hopefully) a happy liver and a fresh crop of Tales From The Hanger.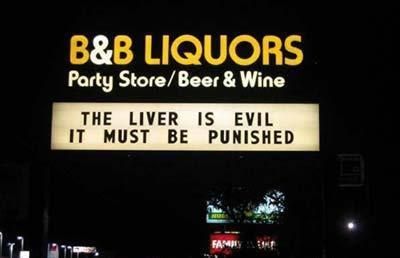 this will NOT be my motto this weekend.